Back
How to protect employees in their workspace from Coronavirus?
Due to the situation with coronavirus in many locations across Serbia and the region, employee protection in an indoor workspace is getting more important. In firms with a large number of employees, it is very important to introduce all protection measures from Coronavirus at the right time and lower the risk of spreading the infection. As new measurements impact a great number of companies in different industries like restaurants, coffee shops, malls, food industry, and many other stores and objects, it is necessary to prevent further spreading of the virus in the right way and to increase consumer awareness of taking care of their hygiene and their hands that needs to be disinfected before and after entering the objects.
In which places should we protect ourselves and how?
Places with a large number of people are the riskiest. Not just in terms of Coronavirus but from infecting with other viruses. Most commonly, those entrances aren't disinfected, rarely does anyone take care of decontamination of the space, the maintenance itself and because of that there are a large number of bacteria and viruses that eventually come into contact with people passing by.
Before we enter the business facility itself, we need to disinfect ourselves. Places that we've visited before work can transmit the virus. We can carry this virus for a long time without being aware of it. As we still have no symptoms, we can transmit the virus to other people. With preventive hand washing, shoe disinfection, proper hygiene helps to avoid infection by removing microorganisms from our palms, which leads to protecting not only other people but ourselves.
Hygienic totem for hand disinfection – Propulzija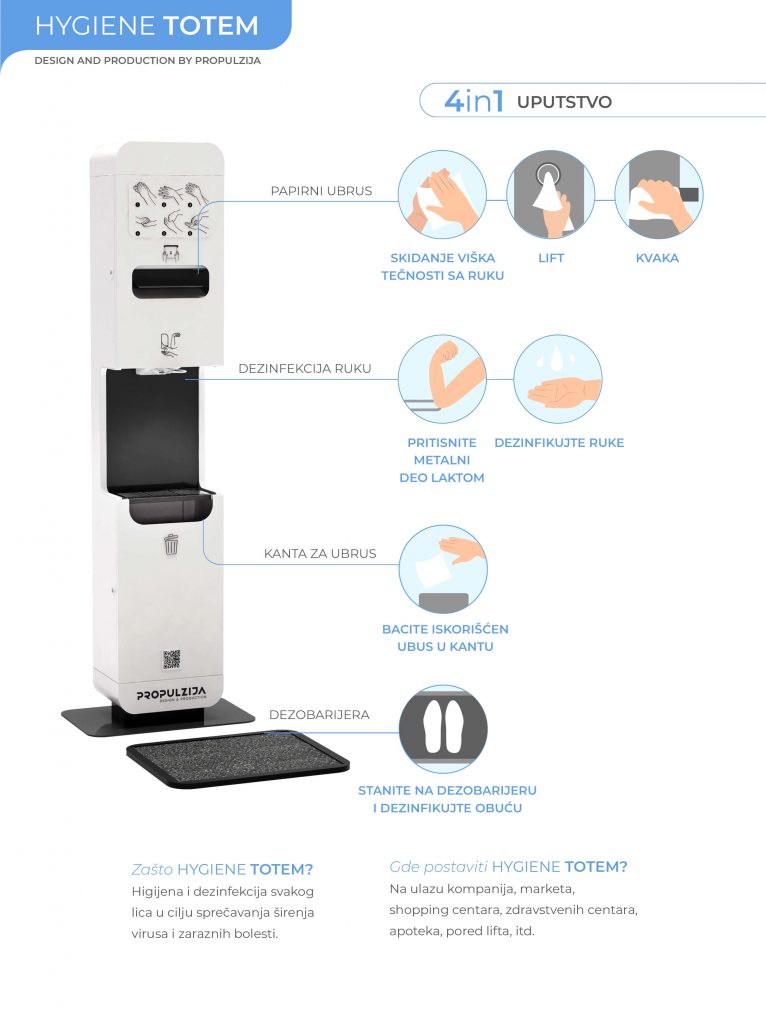 By using a hygiene totem for disinfecting hands with a mat that also disinfect shoes, personal hygiene is increased to a higher level. As disinfecting our hands is necessary several times a day, during handshaking, catching locks, using ATM, entering the mall and many other objects, the hygiene totem made by Propulzija helps us maintain personal hygiene. In the picture next to the text as well on the totem itself, you can see 4 in 1 user guide for using the disinfection device. Whole process is fast, reliable and efficient. The main benefit of a hygiene totem is that it can be placed anywhere in front of entering various objects, to prevent the entry of viruses and bacteria in the objects itself.
Why is hand hygiene important?
Proper, regular hand washing prevents the spread of infectious diseases. In that way, we are lowering the risk of infecting ourselves, because we unconsciously touch our face with our hands where we give a chance to viruses and bacteria to spread further and enter our body. If we don't have a strong immune system the result of that is getting ill in a short period of time and that we need more time to recover. The common cold and flu are the most commonly transmitted but there is a risk of other viruses like COVID19 and other dangerous diseases.
Irregular personal hygiene as well as avoiding washing hands collects microorganisms on our palms. These are most often bacteria, fungi, viruses as well as para-animals. Not all of these affect our body the negative way, but some can be the main cause of infection and disease. To get rid of these microorganisms, proper hand disinfection and using the right disinfectant is very important.
Why choose a hygienic totem from Propulzija?
There are many disinfectants, but not all of them work the same and cannot protect the same. Hygiene totem from Propulzija comes loaded with Kimberly Clark dispensers. Our system is adaptable to your needs, looks attractive and clean compared to other disinfectants which we often don't trust and avoid touching on the entrance, not knowing who used it before us.
With The hygienic totem from Propulzija, touching the totem with hands is not necessary, because everything is done with the elbows following the user guid from the device to minimize risk of getting infected near it.
The main benefit in addition to hand disinfection is that the hygienic totem further emphasizes your object with a modern and clean style that can serve as an advertisement for your new product and attract even more customers in your object.
The hygienic totem contains elements such as hand wiping paper, hand disinfection, buckets where paper can be left after hands washing as well as a shoe mat that is filled with disinfectant.
They are made from high-quality material and are very durable. The main composition is a metal construction made of sheet steel. They are currently available in two colors, white and black.
The main message that our hygienic totem is sending is the work clean, which instills additional confidence in people to use the new device and see new solutions to different types of objects they often visit.
Different types of hygienic disinfection totems
Currently, Propilzija offers white and black hygienic totems with or without a dezo barrier. Certain models can be hung up on the wall or simply placed at the entrances as well as inside the objects themselves. Depending on your needs and the size of the objects, we recommend contacting us and consulting our team so we can find the best possible solution.
The design of the devices is inspired by a modern and attractive minimalistic style, which invites users to get to know it better.
Highlight your brand in the right way. Propulyzija has the right solution for your business and your customers.
Instructions for using hygienic totems?
Our hygienic totems are intended for shopping malls, corporations, large firms, gyms, shops, banks, hospitals, and many other industries. They are very easy and simple to use. In order to further introduce you to our product, we have prepared a short video with instructions on how to use a hygienic totem in just a few steps.
If you are interested in additionally protecting your business and employees as well as giving your customers the feeling that they know they are safe when entering your facility, contact us today and find out more details about our unique hygiene solutions.
To find out more about our other solutions visit the page dedicated to all our products. Propulzija offers modern solutions that are designed to highlight products and services in the best way and to achieve greater market visibility. With a recognizable look that stands out in the eyes of consumers, they won't be able to resist without checking your product and further researching it.